Australia's property market is set to slow once again this weekend, with auction listings markedly down in most capital cities.
According to Domain's latest auction report, across all major metropolises, there are a total of 1659 auctions taking place, which represents a week-on-week fall of 24.7 per cent.
It's the slowest auction weekend since early February, with the exception of public holiday long weekends.
READ MORE: What is LMI and when is it OK to pay?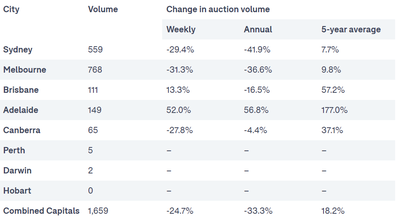 Despite the shrunken auction levels, Melbourne remains the busiest property market, with 768 sales events scheduled this Saturday.
That figure equates to a sizeable 31.3 per cent drop compared to last weekend and a 36.6 per cent fall annually.
Sydney continues to be the second-busiest city to host auctions, with data showing 558 sales events set to occur, down 29.4 per cent week-on-week and a whopping 41.9 per cent compared to the same weekend last year.
READ MORE: Kath & Kim's home is getting bulldozed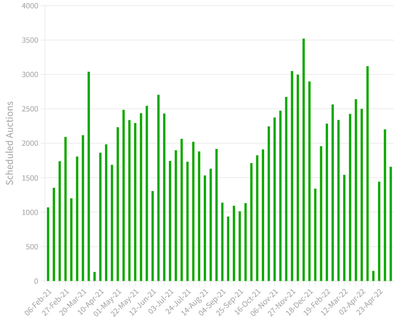 Australia's capital will also see fewer auctions penciled in this weekend, with Canberra's real estate sector hosting a meager 65 auctions on Saturday.
That diminutive number is 27.8 per cent lower than last weekend and even 4.4 per cent less than the same weekend in 2021.
However, not all capital cities are witnessing a scarcity of auction listings.
Adelaide will see the most amount of auctions this weekend on record, with the City of Churches hosting 149 sales events, up a massive 52 per cent week-on-week and an equally huge 56.8 per cent annually.
Similarly, Brisbane will also see an uptick this Saturday, with 111 auctions, up 13.3 per cent weekly but down 16.5 per cent year-on-year.
Although auction listings may be mostly down this weekend, clearance rates were significantly up in every capital city with the exception of Sydney last weekend. The nation's combined clearance rate jumping to 66.6 per cent (up 3.2 per cent).

Melbourne saw its sale rate surge by 6.8 per cent to 71.7 per cent, which is the highest clearance rate in Victoria's capital since October 2021.
Adelaide continues its impressive streak of achieving an 80 per cent or higher clearance rate, with last weekend yielding a result of 80.3 per cent.
Brisbane was also up by 3.5 per cent to 67.7 per cent, while Canberra's clearance rate was marginally higher (up by 1 per cent), with the Bush Capital registering an impressive 71.6 per cent.