Loading
Melbourne reached 4.6 bidders last August but has held at three or below throughout March.
Canberra, where prices have also boomed during the pandemic, reached a peak of 9 bidders in September 2021 but settled at three or below last month. Adelaide held out above 3.6 through March and Brisbane was tracking between 3.2 and 3.5.
Clark expects the number of active bidders at auction in the largest cities to remain moderate and stable, and prices to track similarly.
"Given it appears as though the days of 3.5 bidders per auction for a lot of those large markets are over for the time being, it looks like it's returning to a more moderate trend of between 2.5 to 3," he said.
On the ground, competition is strong for many family homes and first-home buyer properties but can drop off for anything that needs a renovation due to the cost and time involved.
Property values ​​have also stopped booming, edging down 0.2 per cent in Sydney and 0.2 per cent in Melbourne in March, on CoreLogic data.
In Sydney, Cooley Auctions managing director Damien Cooley said while fewer bidders were in the market, the ones still active are keen participants who have missed out at previous auctions and have been looking for some time.
Other buyers who have just got finance approved or just started looking are less likely to show up now, he said.
At one auction last weekend he had five bidders register, which he highlighted as still a very good result, albeit compared with the seven to eight bidders he would often see during the peak of the boom, or 10 to 12 during lockdown.
"We are absolutely seeing less buyers, but still quality," he said.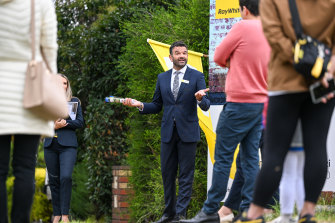 "Downsizers and first-home buyers who have mum and dad helping them, they are hard to compete against."
Benson Auctions director Stu Benson said in the city's Hills District, bidder numbers were highest for any homes that are rare, outstanding or at the top of the price bracket for their suburb.
By contrast, in the middle of that market in the $1 million to $1.8 million price bracket, buyers have a lot of choice and are not pushing prices as high above reserve, he said.
About two in five auctions are selling prior, as vendors accept a strong early offer rather than run the campaign to auction day, he added.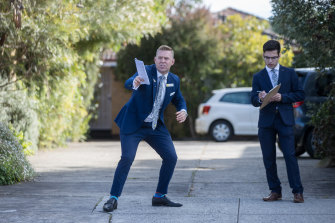 "Some sellers are thinking a bird in the hand is worth two in the bush," he said.
In Melbourne, The Agency general manager for Victoria, Peter Kakos, said although family homes and first-home buyer apartments are still highly sought after, some homes are passing in at auction for negotiation afterwards as bidders hesitate to raise their hands.
Loading
"There is a bit of a trend in people wanting to negotiate post-auction," he said.
"Those that are willing to put up their hand and show their strength are the ones that end up buying."
Belle Property Albert Park principal director David Wood said renovated period homes had been popular in his neighborhood as bidder numbers more broadly eased.
The cost and time involved in sourcing building materials and doing a renovation had shifted demand towards move-in-ready properties, he said. One- and two-bedroom apartments on the city fringe were generally not as popular either.
Early offers could be worth considering in this market, as long as the agents and owners are on the same page.
"If you have got a strong buyer on the property, the chance of them still being around in four weeks is less," he said.